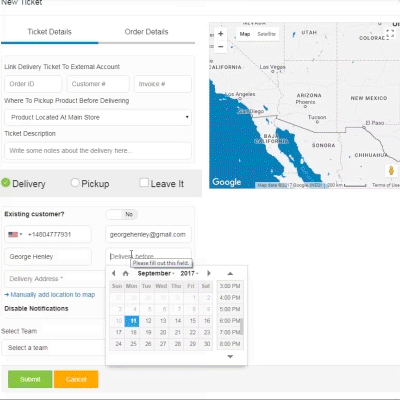 Map Zones is known as Zippykind's flagship feature.  Built to take all of the hassle out of delegating delivery duties to drivers by auto-assigning new deliveries to drivers.  Designed to be user friendly, map zones lets you draw territories on a map and assign those territories to delivery drivers.  When a new delivery is added to the Zippykind software either: manually, through the Zippykind API or through an online store like Shopify, the Zippykind system will find a match between the delivery destination and the map zone and automatically assign the newly created delivery ticket to the driver assigned to the map zone or assign a delivery fee.
Advantages of Driver Map Zones
No more manually assigning driver's to deliveries.
No more comparing routes to see which driver would be best for the delivery.
Imagine the time that will be saved.  No more comparing routes, no more manually assigning deliveries to drivers, no more looking up delivery distances, all of this is now automated through Map Zones.
Advantages of Delivery Map Zones
No more looking up delivery distance to see if a delivery fee needs to be applied.
No more manually adding a delivery fee or relying on employees to know which areas of town should have imposed delivery fees.
Consider all the times you had to lookup the distance between the delivery address and the store to see if a delivery fee needed to be applied to your customers order.  Using map zones, a delivery fee can be automatically applied to delivery destinations further away from your store.
Please watch the demonstration below to get a better understanding of how Map Zones can streamline your entire logistics process.