Zippykind's Software and App Features
We have tons of features that will help keep your team organized & your customers happy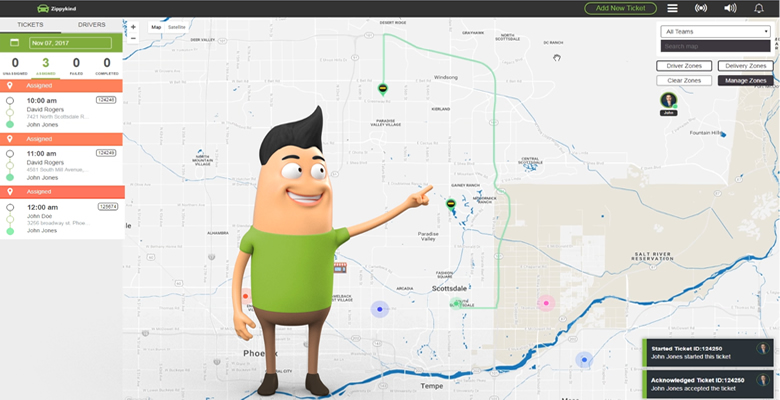 Interactive Map Dashboard
Track the location of your drivers.
Easily send your drivers new deliveries.
Your drivers will instantly receive the delivery details on their phone.
Navigate through past and future orders using the calendar view.
Receive notifications through the dispatch dashboard when your drivers update their delivery tickets.
Check Out Our Most Recent Update - New Features
Click here
to visit a blog post on the most recent update to the dispatch software which includes descriptions and screenshots of our newest features.
Visit Our Demo Videos on Youtube
Click here
to visit our Youtube channel to view demo videos that will take you through each feature in the Zippykind platform.
OUR IPHONE AND ANDROID DRIVERS APP IS FOR YOUR DELIVERY DRIVERS AND IS CAPABLE OF NAVIGATION, ROUTING, CUSTOMER AND DISPATCH COMMUNICATION AND PHOTO, NOTES AND SIGNATURE ATTACHMENTS!
Increase Customer Happiness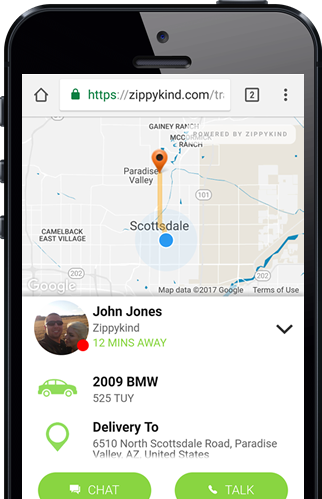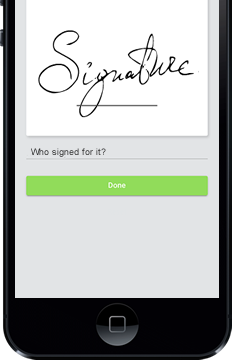 Your customers can receive a text message or email with a tracking link that they can use to track the ETA and location of their delivery driver. Your customers and drivers can also communicate autonomously through text or voice using a dedicated virtual number.

A dedicated virtual number gives your business a way for drivers and customers to talk without your customer knowing your drivers cell phone number.

Customers can review the driver based on a 5 star rating and leave feedback for the driver.
Loss prevention and delivery verification is a major concern for every delivery business which is why we offer signature verification.

When your delivery driver arrives to the delivery destination, your customer can sign for the delivery using the drivers app, a photo of the signature will be saved and attached to the delivery ticket.

So if there is ever a dispute later on down the road from a customer who claims they didn't receive their package, your company can provide the customer with proof that they signed for it. Not only can you provide the customer with signature verification, but the drivers GPS coordinates are logged so you can show that the package was signed for at the location of the delivery destination.

All tickets can be downloaded and printed as PDF documents which offer a great way to provide your customers with verification that the package was delivered.
Drivers Stay Efficient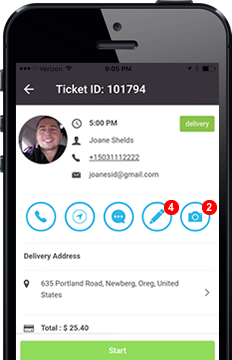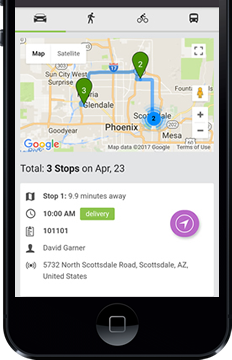 Your drivers can be sent push notifications to their cell phones with details about the delivery including: ordered items, total cost, delivery address, name, phone number and even a photo of the customer.

Your delivery driver can choose to accept or decline the delivery ticket. Once the driver has accepted the delivery ticket, the driver can now add photos, signature verification and notes to the delivery ticket. Customer templates can be created by the dispatch operators, these will be sent to the customer during every milestone that is met during the delivery process.

From the time your driver accepts the delivery ticket to the package being delivered, your customer can receive emails and text messages during the entire process.
The efficiency of your delivery drivers can help save your company a lot of money. Those extra miles from taking a wrong turn or having to stop to get more details during the delivery end up turning into a huge unnecessary expense. Using our driver's app, your driver will always know where they are going and who they are delivering to. Delivery tickets can be sent by dispatch operators directly to your fleet of drivers in real time.

Drivers can sort their delivery destinations by time of delivery or by the most efficient route.
Communicate Better With Customers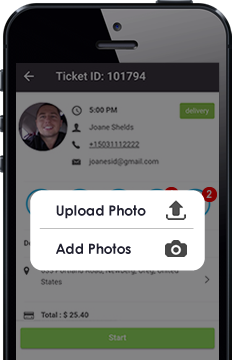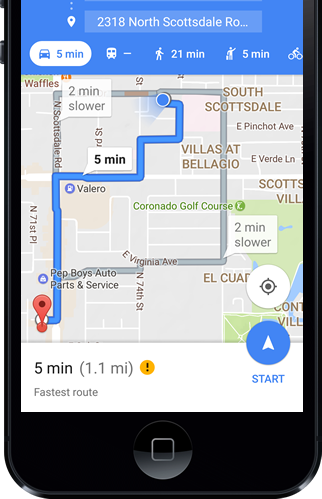 Lets say your company delivers flowers, and the sender wants to see photos of the recipient receiving the flowers or perhaps just a picture of the flowers being sent; using our app, your driver can take photos and attach them to the delivery tickets and send them to your customer accompanied by a custom message from your company.
Navigating your way through town with a list full of deliveries and a bunch of eager customers can be hectic. Using our app, your drivers can click a button and get driving, riding and even walking directions to each delivery destination. Our app uses Google maps so the driving directions can be audible or listed in a step by step directions format.
Dispatch Operator's Dashboard
Track Your Drivers
Through our dashboard page you will be able to see all of your delivery tickets color coded to be the same color as the driver they are assigned to. You can toggle between the delivery tickets column and the driver's column to easily see the status of your tickets or the ticket list assigned to your drivers.
Real time tracking of your drivers.
Real time tracking of your delivery tickets.
Driver and delivery ticket markers are color coded to match the drivers' color.
Easily search the map for delivery tickets.
Overlay delivery and driver zones on the map.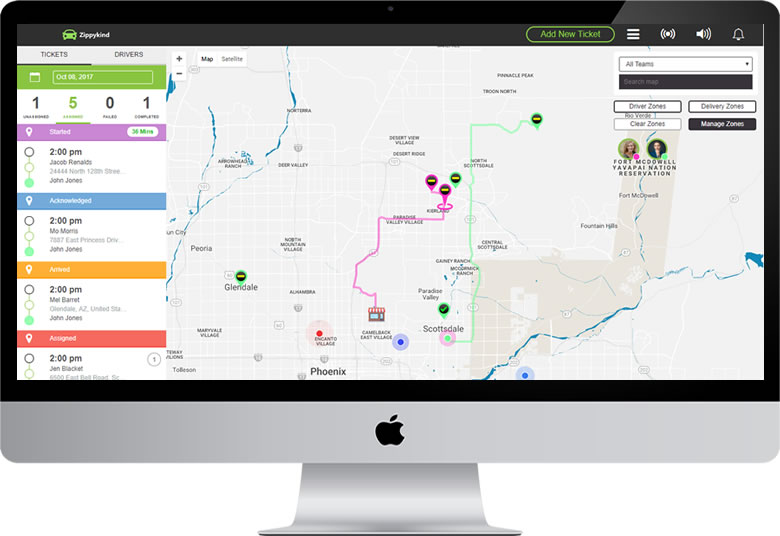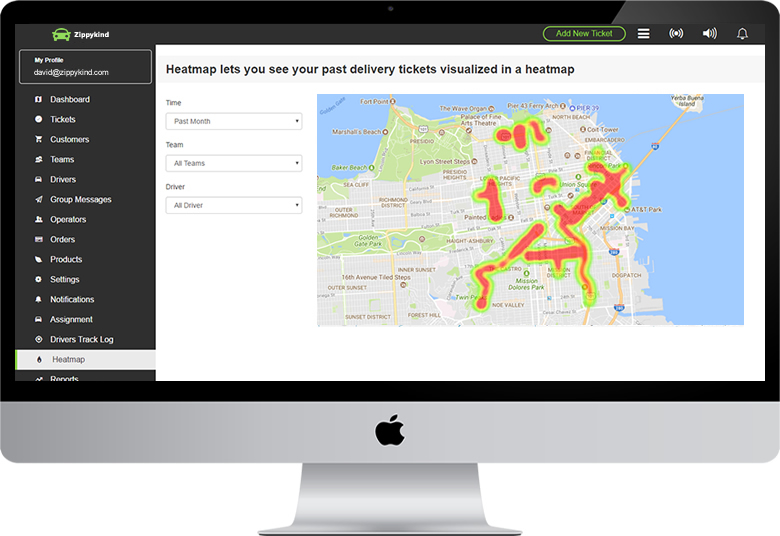 Delivery History Heatmap
Using our delivery ticket heatmap, you can get a better understanding of your company's busier delivery areas in town. Review your past deliveries in the form of a heatmap, line chart or column chart. Filter results by team, delivery driver or date range.
Easily Send Delivery Tickets To Your Drivers
Send your driver a notification that they have been assigned a new delivery ticket.
All tickets are archived for later lookup.
Add order details to your ticket so your driver knows exactly what to deliver and how much money to collect.
Track the progress of each delivery ticket, from the driver with GPS coordinates of the drivers whereabouts when the ticket status is updated.
Search past customers to quickly auto-fill in delivery details such as address and phone number.
When a delivery address is entered while creating a new ticket and if you have the delivery or driver zones feature enabled, our software will apply the dollar amount or assign the appropriate driver to the ticket.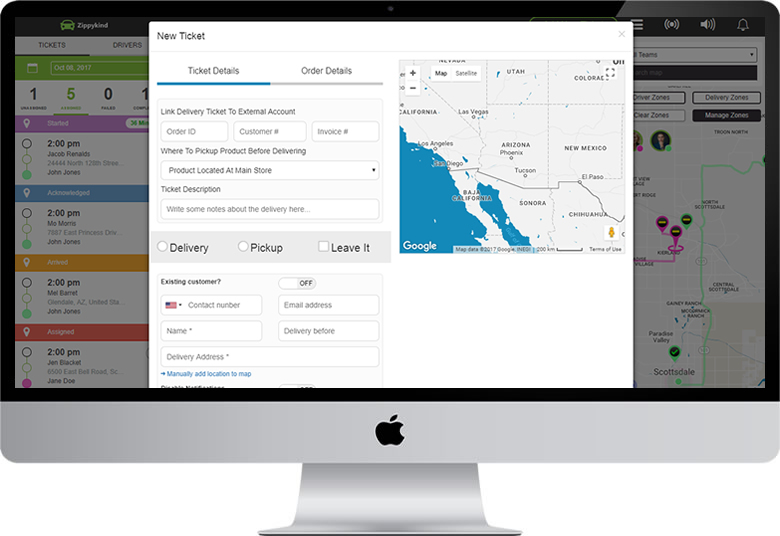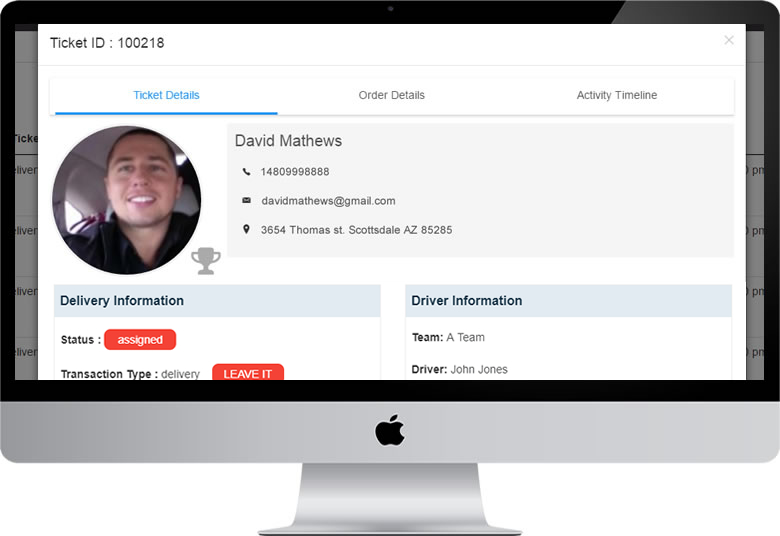 Know Who You Are Delivering To
When you create a new delivery ticket, we use the customers email address to find their picture online, we then display the picture with the delivery ticket for dispatch and your drivers to see. Letting your drivers see a picture of who they are delivering to can be an important safety precaution.

You can also easily edit delivery tickets, change the status of the ticket and re-assign the driver. We will also set you up with a dedicated virtual number that we will route all calls and texts between your customers and drivers so that you drivers' phone numbers remain private.

Your customers will automatically be placed in the rewards level based on their spending. You can define what rewards your customers will receive for each rewards level.

You can easily toggle between: "Ticket Details", "Order Details" and "Activity Timeline" to get a detailed look at the delivery ticket.
Notification Templates
You can create custom messages that will automatically be sent to your customers and drivers for each milestone met during the delivery process. Status updates will also be sent to the dispatch operators so they can stay informed on how the delivery is going.

To the right you will see an example from one of our client accounts who has created a custom notification template.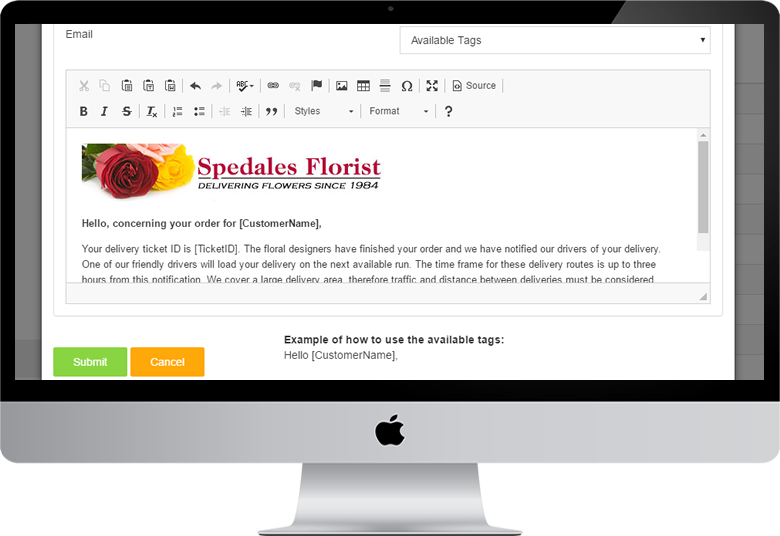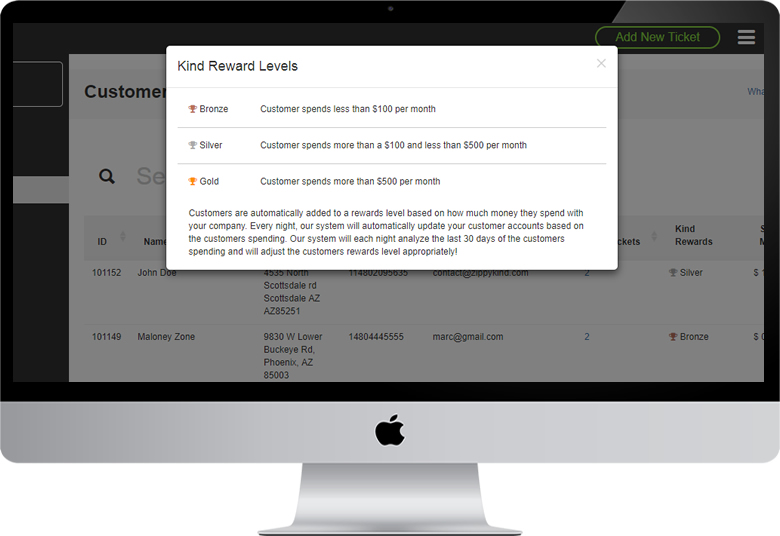 Rewards Program
Customers will be added to your customers list as you create new delivery tickets and if you add order items to the delivery tickets, the customers spending will automatically enroll the customer into the appropriate tiered rewards program. This feature is totally optional, but you may want to keep track of loyal customers so that you can reward them.
Map Zones
Our delivery map zones feature automates the entire delivery ticket creation process. Each time you enter a delivery address into a new ticket, if the delivery address is within a delivery zone, the rules of that zone will be applied to the ticket. There are 3 main ways delivery zones can be used:
Auto-assign your driver to a delivery ticket if the delivery address is within the driver's zone. Using this option you can assign your drivers to delivery territories.
Apply a fixed delivery fee to a new ticket if a delivery address is within the delivery zone. Using this option, you can assign an extra delivery fee for deliveries that are further away.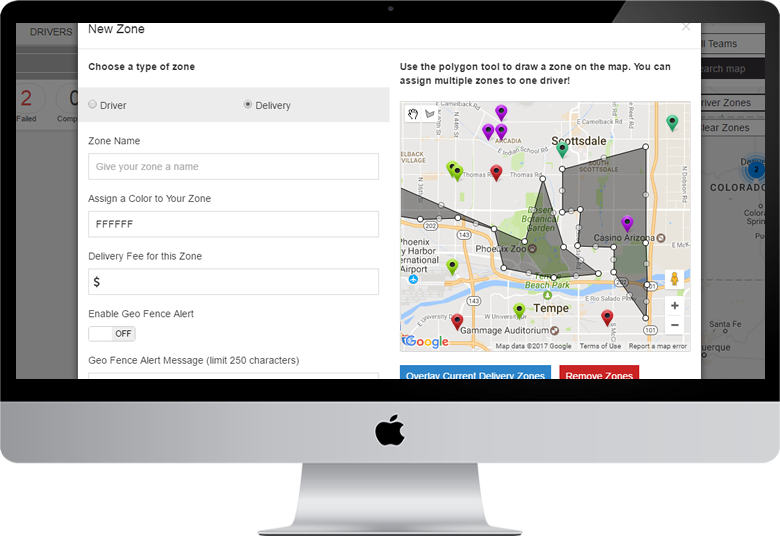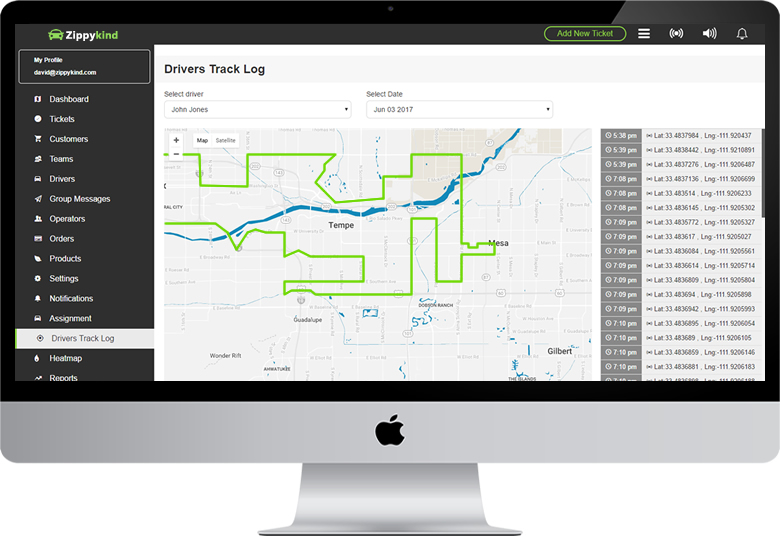 Driver's Track Log
You can track your delivery drivers past location using our driver's track log feature which will show you your driver's location throughout the day, minute by minute.
Lookup past GPS logs for any of your drivers.
Driver's GPS coordinates are logged every minute and stored for later review.
The driver's entire route throughout the day will be drawn onto the map.
Delivery and Driver Analytics
Review your drivers past delivery performance and delivery history using our reports.
Discover delivery trends.
Easily toggle between delivery and driver reports.
Review your driver's delivery performance and delivery history.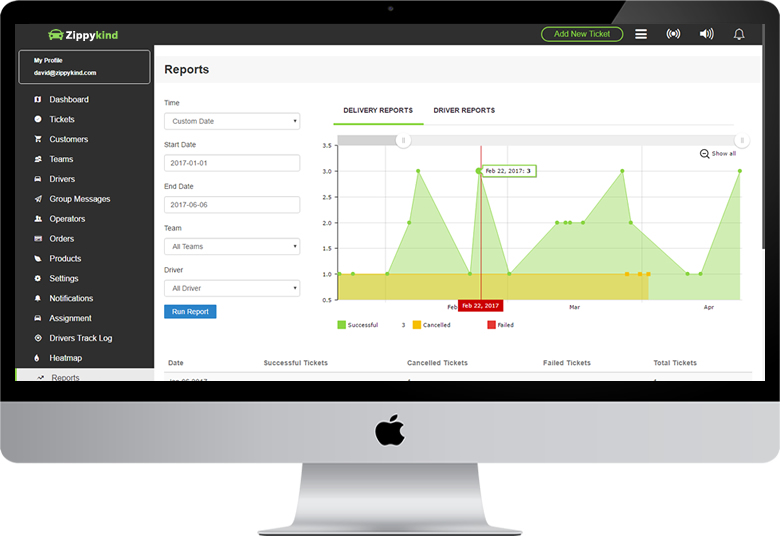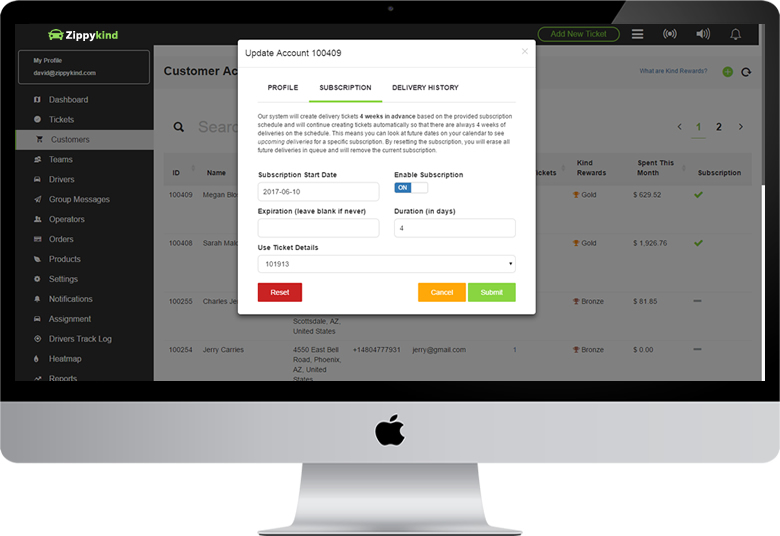 Recurring Subscriptions
Create recurring subscriptions for your customers who need deliveries on a regular basis.
Our system will automatically create delivery tickets 4 weeks in advance making it really easy for your drivers and dispatch operators to see upcoming deliveries.
Just pick a start date and a duration period and our system will automatically create new delivery tickets for future deliveries.
Resetting a member's subscription will delete all future deliveries for the subscriber and will reset the duration and start date of the members subscription.
Create Custom Routes
Drivers can use our route optimization tool inside the drivers app or you can create custom routes within the dispatch operator software.
Driver will be sent the new route within seconds of the route being created.
Dispatch operator can view the total distance of the route and the duration of time that it should take the driver to complete the route.
Dispatch operators can easily create multiple routes to see which route would be the fastest by simply clicking the map markers.
Dispatch operators can create unique routes for each driver by simply clicking on the Create Route link next to the drivers name.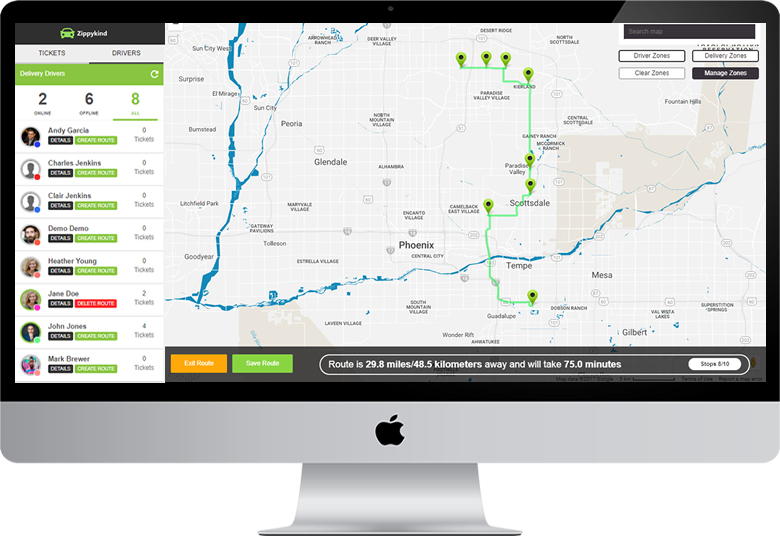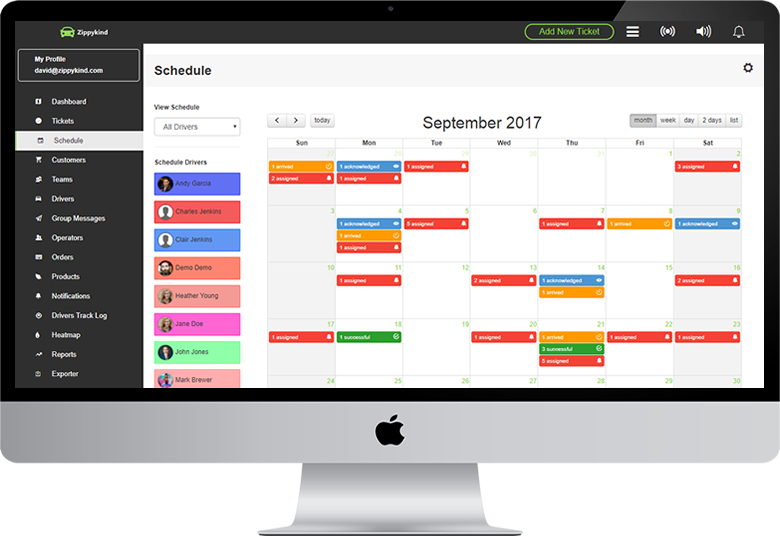 Manage Your Schedule
Easily manage all of your deliveries using our drag and drop Scheduler.
Drag and drop driver onto map to schedule a new delivery.
Click on any delivery to quickly view delivery details.
View month, week, day, 2 day and list view of your schedule.
Drag schedule item on the Scheduler to quickly re-schedule a delivery.
Week view shows you each drivers delivery range throughout the day.
Filter scheduler results by date range, team and driver.
CSV Exporter
Export your delivery data in a CSV file using our highly customizable CSV exporter.
Export customer accounts.
Export drivers.
Export drivers GPS location history through our track log.
Export delivery and pickup ticket data with and without order information.
Export delivery status history.
Export product logs.
Export SMS, call, email and push logs.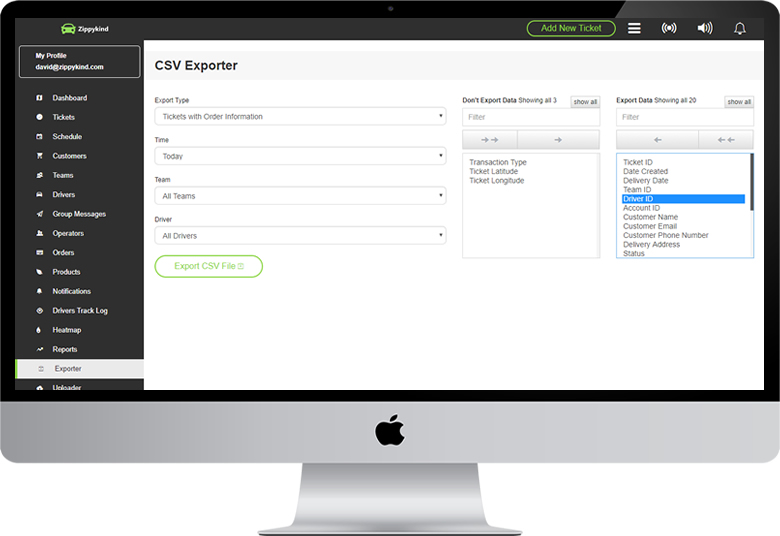 Integrate with Zippykind's API